The Grateful Dead ‎– Workingman's Dead (WS 1869)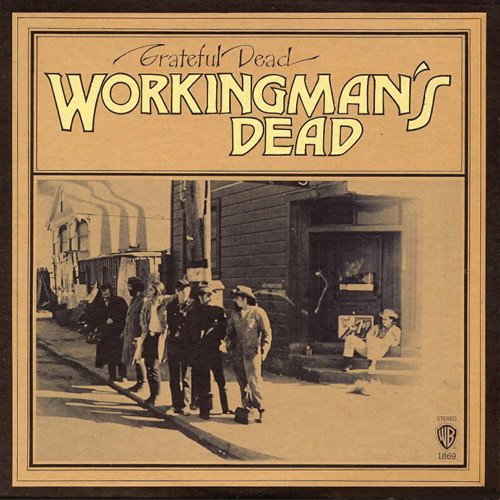 The Grateful Dead ‎– Workingman's Dead (WS 1869)
Label:
Format:
Vinyl, LP, Album

Country:
US
Released:
14 Jun 1970
Genre:
Rock
Style:
Folk Rock, Country Rock, Classic Rock
Notes
Original 1st Pressing with Olive Green WB Labels and Upside Down Rear Cover (it's said that the back cover was intentionally printed upside down).

All selections Ice Nine Publishing Company (ASCAP)

Recorded at Pacific High Recording Studio, San Francisco. Engineered by Alembic.

Warner Bros. Records Inc., a Subsidiary & Licensee of Warner Bros. Inc., 4000 Warner Blvd., Burbank, Calif. • 488 Madison Ave., New York, N.Y. Made in U.S.A. © 1970 - Warner Bros. Records Inc.
Barcode and Other Identifiers
Rights Society: ASCAP
Matrix / Runout (Runout side A etched, Var. 1): WS-1869 39719-1 KD
Matrix / Runout (Runout side B etched, Var. 1): WS-1869 39720-1 KD
Matrix / Runout (Runout side A, Var. 2): WS-1869 39719-1 KD Λ3 P
Matrix / Runout (Runout side B, Var. 2): WS-1869 39720-1 KD B6 P

Condition

Media: Very Good (VG+

Sleeve: Very Good Plus (VG+)

Comments

WS-1859 39720-1 (runout side 1) Few minor scratches on vinyl.Clean label. org. inner sleeve (VG) Sleeve has edge and corner ware but overall looks good and clean. We professionally clean and test for skips before invoicing to ensure quality vinyl plays for you. FREE SHIPPING USA over $100 #ASC

Location: Show Box
Reviews