St. Louis, The World's Largest, Lidded, 1976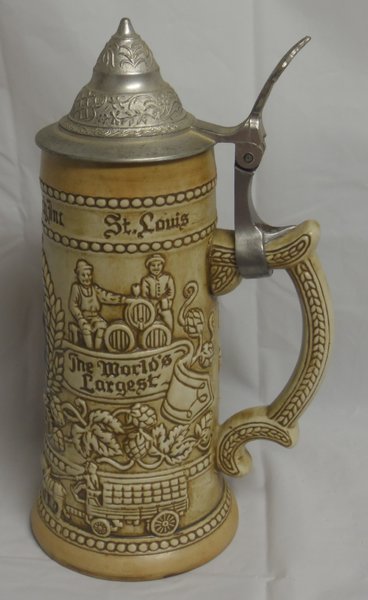 St. Louis, The World's Largest, Lidded, 1976
CSL2 - 1976 A&Eagle ® lidded stein. This 9 1/2" lidded thin handled stein was made in Brazil. (Handle measures 3/4" wide in the middle)

St. Louis, The World's Largest, Lidded

Issue year: 1976
Edition Quantity:
Item Number: CSL2
Series Order:
Height: 9 1/2"
Origin: Brazil
Manufacturer: Ceramarte
Material: Ceramic
Special Feature: Bottom Markings
The A&Eagle ® trademark is depicted in full color at the center. Cobalt blue background. Famous Clydesdales eight horse hitch runs around the bottom of the stein, in detailed relief. Anheuser-Busch ® and St. Louis, Missouri, are etched into the top band of the stein. The words "The World's Largest" and "The World's Renowned" appear in a raised ribbon treatment on each side. Smaller Ceramarte mark on the bottom. Natural patination of the lid. Did not come boxed.
J Near Mint
See our terms page for description of grade.
All steins are packaged carefully and shipped with insurance.
Reviews