Limited Edition II, Lidded, 1986, Aging and Cooperage Scenes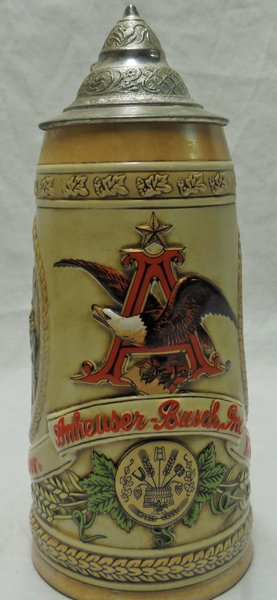 Limited Edition II, Lidded, 1986, Aging and Cooperage Scenes
Limited Edition II, Lidded, 1986, Aging and Cooperage Scenes

Issue year: 1986
Edition Quantity: 07,598 / 200,000
Item Number: CS65
Series Order: Second
Height: 9 1/2"
Origin: Brazil
Manufacturer: Ceramarte
Material: Ceramic
Lid: Pewter
Special Feature: Bottom Stamp, Individually Numbered
The Limited Edition II stein is the second in the vintage History of Brewing series. This version, antiqued and decorated with ornate trim, features an A&Eagle trademark at center. A decorative ribbon with the words "Anheuser-Busch, Inc. and "King of Beers" wraps around the body. Aging and cooperage scenes are illustrated and framed by oval relief designs on both sides of the stein.
J Near Mint
See our terms page for description of grade.
All steins are packaged carefully and shipped with insurance.
Reviews