Federal Duck Stamp Canvasbacks lidded stein (1993 - 1994)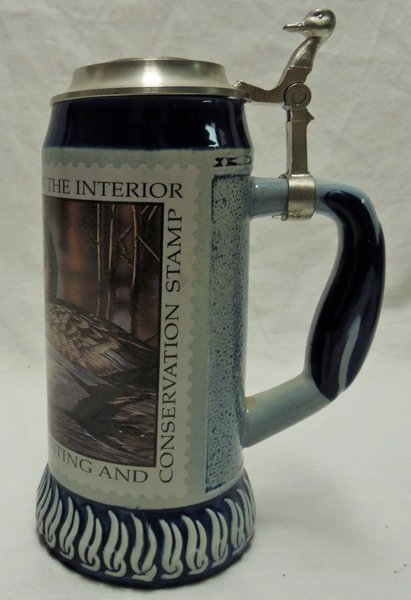 Federal Duck Stamp Canvasbacks lidded stein (1993 - 1994)
Covered Bridge, 1984, Budweiser Stein
Issue year: 1993-1994
Edition Quantity: Not Available
Item Number: FDS94
Series Order: No. 0121
Height: 8 1/2"
Origin:
Manufacturer: China for CUI, Inc.
Material: Ceramic
Special Feature: Individually Numbered, Certificate of Authenticity
Lid: "This strict limited edition of 5950 collectors steins proudly exhibits the winning entry in the Federal Duck Stamp competition.
Neal Anderson's winning entry, the "Canvasbacks", in the 1993-1994 Federal Duck Stamp competition is shown here on the $15.00 Migratory Bird Hunting and Conservation Stamp.
J Near Mint
See our terms page for description of grade.
All steins are packaged carefully and shipped with insurance.
Reviews