Discovery of America, Nina, Lidded, 1992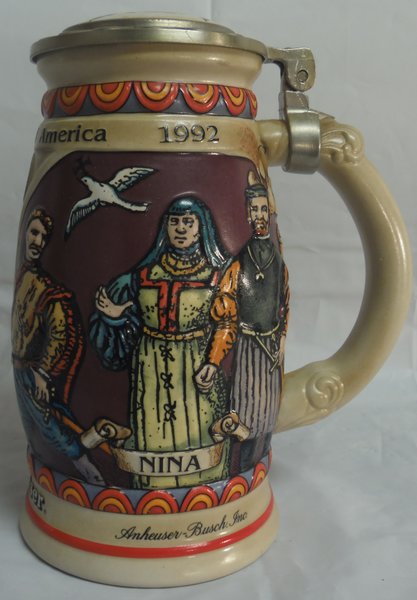 Discovery of America, Nina, Lidded, 1992
Discovery of America, Nina, Lidded, 1992, Budweiser Stein
Issue year: 1990
Edition Quantity: 48,594 of 100,000
Item Number: CS107
Series Order: First
Height: 8 1/4"
Origin: Brazil
Manufacturer: Ceramarte
Material: Ceramic
Lid: Pewter
Special Feature: Bottom Stamp, Individually Numbered
This special Anheuser-Busch Stein depicts a scene featuring the discovering of the American Ship, Nina, with three natives to of the land and a white dove soaring above.
J Near Mint
See our terms page for description of grade.
All steins are packaged carefully and shipped with insurance.
Reviews