Bill Elliot, Lidded, 1992, Stock Car Racing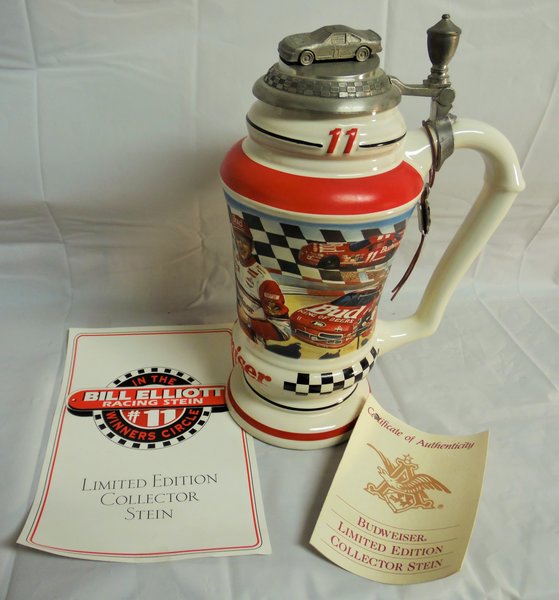 Bill Elliot, Lidded, 1992, Stock Car Racing
Bill Elliot, Lidded, 1992, Stock Car Racing Budweiser Stein
Issue year: 1993
Edition Quantity: 25,000
Item Number: CS196
Height: 10 1/2"
Origin: Germany
Manufacturer: Gerz
Lid: Pewter
Material: Ceramic
Special Feature: Bottom Stamp, Indvidually Numbered, Certifcate of Authenticity, Gift Box
Artist: Hans Droog
The 1984 Holiday Series stein showcases the Anheuser-Busch Clydesdales as they cross a covered bridge. Traveling through the snow, the eight-horse hitch passes through a tranquil evergreen forest. The design also includes a dotted green accent pattern at top and two red accents bands at base with Budweiser lettering in red.
J Near Mint
See our terms page for description of grade.
All steins are packaged carefully and shipped with insurance.
Reviews