An American Tradition, 1990, Budweiser Stein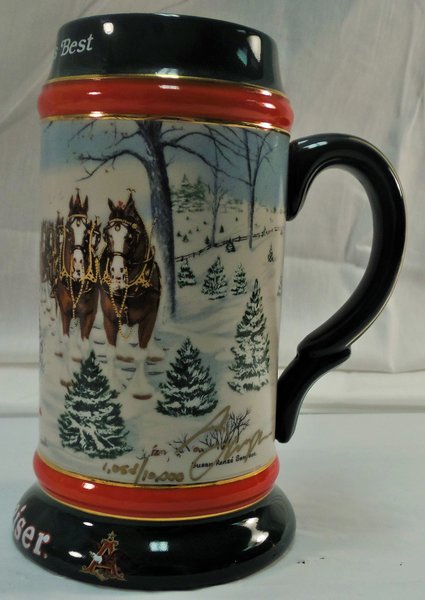 An American Tradition, 1990, Budweiser Stein
An American Tradition, 1990, Budweiser Stein
with Rare Gold Trim
Issue year: 1990
Edition Quantity: CS112GOLD: 1,500
Item Number: CS112GOLD
Series Order: Eleventh
Height: 7"
Origin: Brazil
Manufacturer: Ceramarte
Material: Ceramic
Special Features: Bottom Stamp, Gold Decal
Artist: Susan Renae Sampson
An American Tradition is the eleventh stein in the popular Holiday stein series and the first of three by artist Susan Sampson. This artist beautifully captures the spirit of the holidays as the Clydesdales eight-horse hitch passes a snowy-banked pond. This attractive scene is framed by red and blue accents and trimmed in gold.
J Near Mint
See our terms page for description of grade.
All steins are packed carefully and shipped with insurance.
Reviews