2002 Coors Iron horse Collection Golden Rails w/Gift Box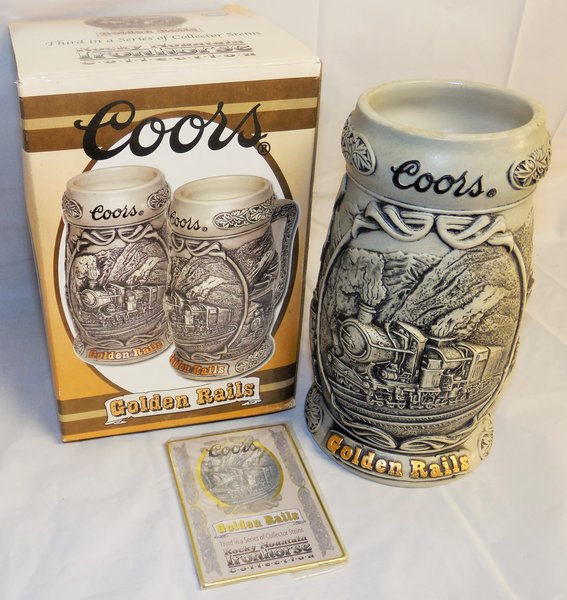 2002 Coors Iron horse Collection Golden Rails w/Gift Box
2002 Coors Iron horse Collection Golden Rails w/Gift Box, Coors Stein

Issue year: 2002
Edition Quantity: 17,860/Unknown
Series Order: Fifth
Height: 7"
Manufacturer: China
Material: Ceramic
Special Feature: Bottom Stamp, Originally Hand Numbered by President C.Alexandd, Gift Box, Certificate of Authenticity
This handsome, intricately embossed ceramic stein commemorates the rich history of the great trains of the Colorado Rocky Mountain region. Beautifully crafted in three dimensional bas-relief, this elegant piece captures the spirit of an exciting era when rail were the chief passageway through sometimes treacherous terrain. The "Golden Rails" is third and final in a series of collector steins paying homage to Colorado's valuable contribution to our nation's transportation heritage.

Mint
See our terms page for description of grade.
All steins are packaged carefully and shipped with insurance.
Reviews