The Beatles – Magical Mystery Tour Capitol Records, Capitol Records – SMAL 2835, SMAL-2835 LP, Album, RE, Org 1976 ,US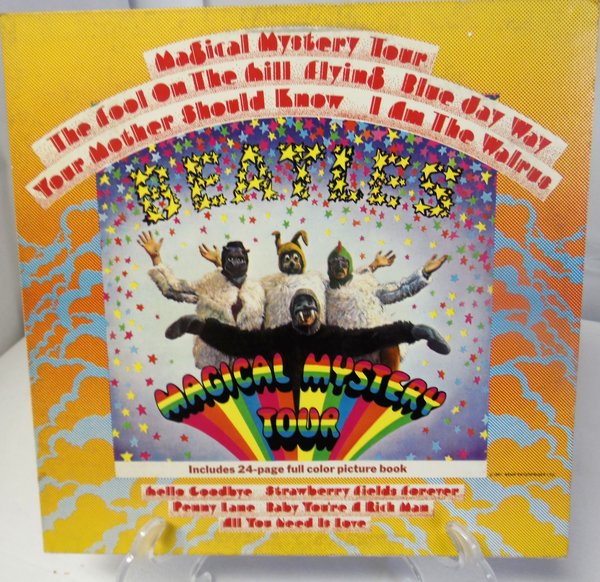 The Beatles – Magical Mystery Tour Capitol Records, Capitol Records – SMAL 2835, SMAL-2835 LP, Album, RE, Org 1976 ,US
The Beatles ‎–
Magical Mystery Tour
Label:
Format:
Vinyl, LP, Album, Reissue, Stereo, Org label,Jax

Country:
US
Released:
1976
Genre:
Rock
Style:
Psychedelic Rock
Tracklist
A1

Magical Mystery Tour

2:28
A2

The Fool On The Hill

3:00
A3

Flying

Written-By – Harrison*, Lennon*, McCartney*, Starkey*

2:16
A4

Blue Jay Way

3:50
A5

Your Mother Should Know

2:33
A6

I Am The Walrus

4:35
B1

Hello Goodbye

3:24
B2

Strawberry Fields Forever

4:05
B3

Penny Lane

2:57
B4

Baby You're A Rich Man

3:07
B5

All You Need Is Love

3:57
Notes
Orange label, 1976-77.
"Includes 24-page full color picture book"
-Pressed at Capitol's Jacksonville factory, as identified with a "O" or "0" in the run-outs.
-As with most US stereo pressings, tracks B3, B4 & B5 are "fake" stereo mixes
-"No You're Not!" text is in handwritten script under "I Am the Walrus"
-Inside cover credits now states: "All side-one selections are published by Comet Music Corp, ASCAP" while after track B5 is stated "All side-two selections are published by Maclen Music, Inc, BMI"
-Cover pressed on cardboard stock
Barcode and Other Identifiers
Rights Society: ASCAP
Rights Society: BMI
Matrix / Runout (Label A): SMAL 1-2835
Matrix / Runout (Label B): SMAL 2-2835
Matrix / Runout (Side 1 run-out etched (appears that ST was etched but the MAL was etched in after)): SM(T)AL-1-2835-A5 #5 0
Matrix / Runout (Side 2 run-out etched): SMAL-1-2835-B14 #2 O
Seller's Shipping Information
Payment and Shipping Policies
WE USE MEDIA RATE SHIPPING FOR ALL RECORDS....INSURANCE IS INCLUDED....HANDLING FEE'S MAY VARY.
Reviews